Father-Son Camping Trip
Our Annual Father-Son Camping Trip is back!
This is one of our favorite bonding events for Fathers and Sons to create lasting memories and have fun out in the wilderness.
More details to come, but please feel free to RSVP today by filling out the form below and invite friends and family to join our great community of Fathers and Sons who love making this event one of our staple summer events for Fathers and Sons!
REGISTRATION COST:
Our annual camp has a small fee of $20 per family unit to cover the cost of some of the crafts and activities during the camp. Registration payment will be collected by Pat Humphreys.
BRING THE USUAL CAMPING ACCESSORIES:
- Picnic/banquet tye cover
- Tent
- Lantern
- Firewood
- Flashlights
- Batteries
- Coolers
- Ice
- Chairs
- Small Table
- Fishing Tackle
- Water Accessories
- Breakfast
- Lunch
- Snacks
- Beverages (bring plenty of drinks)
- and anything else you can think of that would be fun! See Less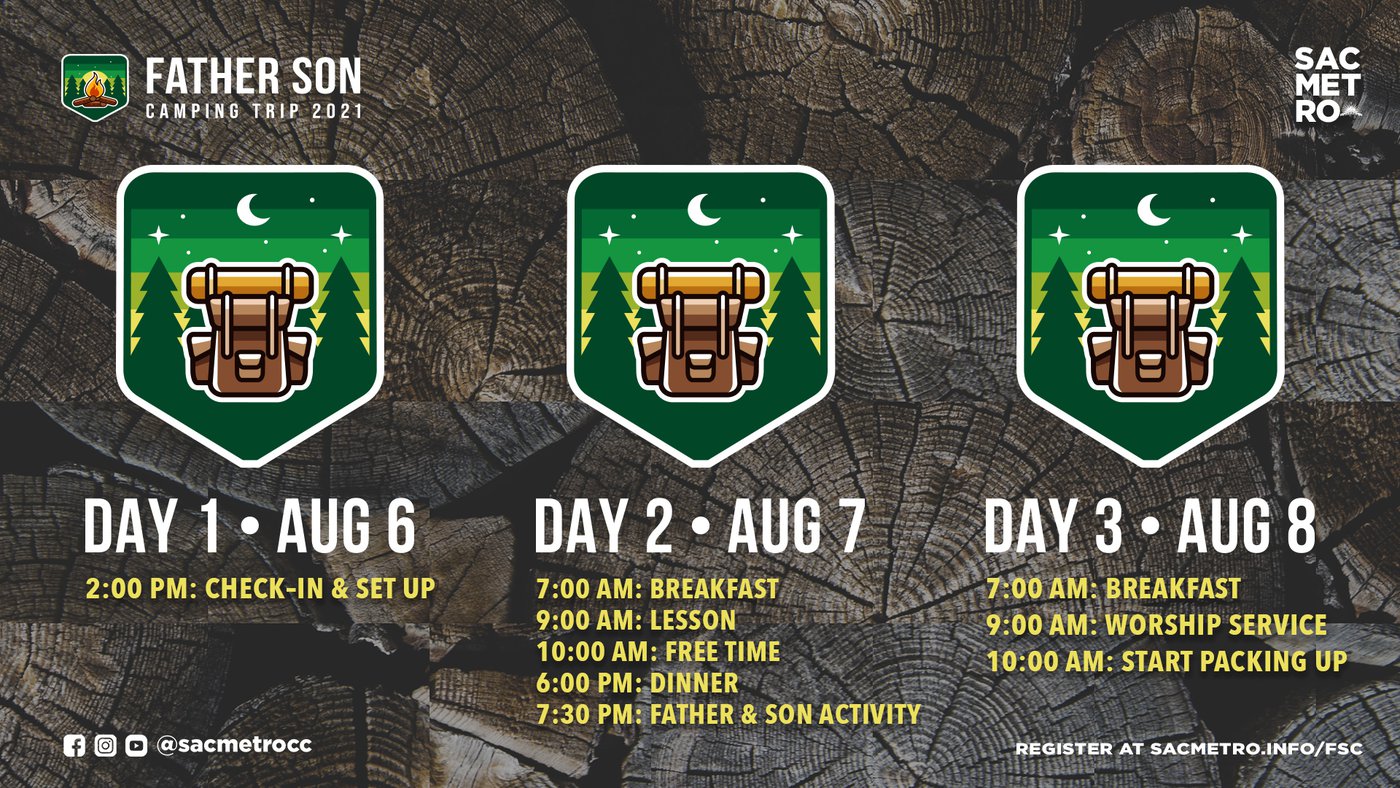 Camp Schedule
FRIDAY, AUG 6
2 pm-6 pm: Check in & Set up
SATURDAY, AUG 7
7 am-9 am: Breakfast (on your own)
9 am-10 am: Lesson
10 am-6 pm: Free Time*
6 pm-7:30 pm: Dinner
7:30 pm: Father and Son Activity
*Activity Ideas - Fishing, Biking (if you bring them with you), Swimming, Hiking, Kayak/Boat Rentals, etc.

SUNDAY, AUG 8
7 am-9 am: Breakfast (on your own)
9 am-10 am: Worship Service
10 am-12 pm: Start packing up

---
Registration Form